Te Māngai Pāho releases funding deadlines for 2021
Ngā whakaputanga pāpāho
Media releases
11 February 2021
The schedule for Te Māngai Pāho funding deadlines in 2021 has been released, providing producers, production houses and content creators greater ability to plan.
The 2021 Funding Deadline calendar sets out dates for four confirmed rounds, with the Te Māngai Pāho/NZ On Air Co-Fund dates to be announced later in the year.
"Collaboration across the sector is key in achieving the greatest impact for te reo Māori. We hope early release of the calendar will provide the sector with greater certainty around funding opportunities available to them," says Pou Ārahi Kaupapa | Head of Content for Te Māngai Pāho, Blake Ihimaera.
A new two stage process has also been instituted to alleviate the need for applicants to provide full proposals at the first point of submission. 
"By adding a three page proposal stage to the process, successfully shortlisted applicants will have a greater opportunity to ensure their full proposals are of a standard that meets both the needs of the production company and the agencies involved," Ms Ihimaera says.
The first round for 2021 is targeted at tamariki and rangatahi content. A key demographic in the revitalisation of te reo Māori, and identified as active consumers of te reo Māori content across platforms. Funding exciting, engaging kaupapa for our babies and rangatahi remains a priority for Te Māngai Pāho in 2021. Applications open 15 o Poutū-te-rangi.
The addition of a targeted contestable Māori News and Current Affairs (NCA) round provides the sector with greater clarity around the allocation of funding, and the opportunity for national Māori news providers to plan for the year ahead. To offset this, Te Māngai Pāho has included an innovation round that will prioritise new storytellers.
Previous years' receptive and fluent funding rounds have been amalgamated to the General Audience funding rounds. An emphasis will be on prioritising fluent content, with a detailed breakdown of all priorities stipulated in each RFP.
"We will continue to engage with the sector to ensure our funding calendar and respective funding rounds reflect current needs," Ms Ihimaera says.
Unless specified otherwise, all applications for funding must be submitted through the online application system Te Pūahatanga. To sit alongside the funding calendar, Te Māngai Pāho will be placing greater emphasis on its commitment to te reo Māori and how language planning may look in the future. More details will be released on a refreshed language strategy in the coming month, with a view to see the sector implement and lead.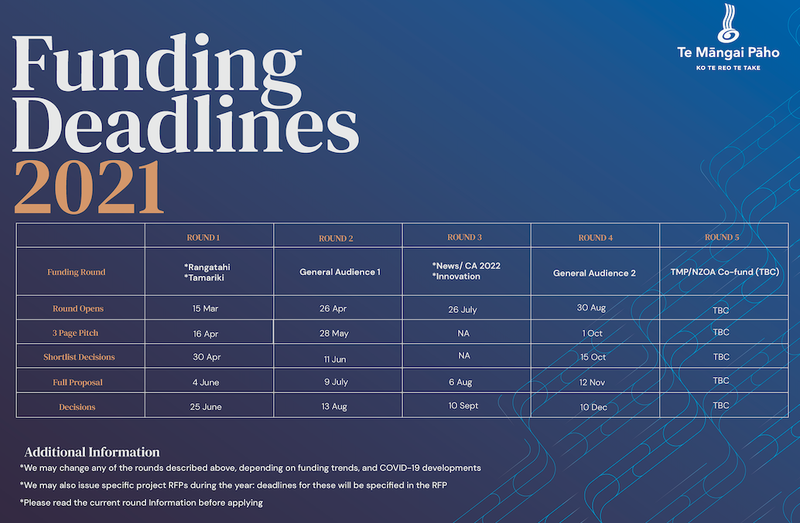 Funding Round Deadlines 2021